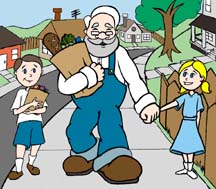 Walking home from the grocery store with Grandpa Clay, Celeste said to him, "Grandpa Clay, will you tell us another story?"
"Yes," added her brother Dusty, "You promised to tell us the story of the little angel with the bell."
"Indeed, I did," admitted Grandpa Clay. He took the little clay figurine from his pocket, looked at it for a moment, and then began his story.