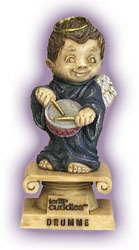 Some of us don't think about it enough, but being punctual is extremely important. It's an attitude and discipline that will spill over and improve all areas of our life.
Nothing will demonstrate your attentiveness, responsibility, and initiative better that your ability to be punctual. Your on-time actions also tell other people that you value them, and you have respect for their time.
Encourage your students, co-workers and employees to arrive at least five minutes early by developing an award system.
Praise character by focusing on the good. Record punctuality rather than tardiness. TerraCuddle Drumme makes an excellent award for punctual people who "never miss a beat."