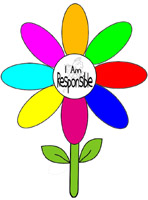 This is an easy project you can do
with friends or alone.
What you need:
- Crayons, paints, or markers.
- Scissors (ask an adult)
- Glue
What to do:
1. Click on the flower to go to the pattern page.
2. Print the pattern.
3. Cut the flower parts along the dotted lines.
4. Color brightly
5. Write on each petal one of your
responsibilities around the house
6. Glue the parts together, and let dry.
7. Hang it on the fridge or your bedroom door.